antique-mysteries-secrets-of-howards-mansion
http://www.iwin.com/games/antique-mysteries-secrets-of-howards-mansion
6901620487108710908
Antique Mysteries: Secrets of Howard's Mansion
http://static.iwincdn.com/images/product/6901620487108710908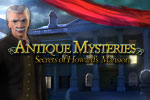 Billionaire oil tycoon Sheldon Howard spent the last years of his life obsessively building secret rooms and passages throughout his mansion. He hid his most prized antique collection throughout these rooms shortly before his death. Can you unlock the secret rooms and restore this precious collection while uncovering the keys to Sheldon's madness?
...read more
We protect your privacy. Review our privacy policy.
Antique Mysteries: Secrets of Howard's Mansion is Our games are guaranteed safe and free of viruses and malicious software. We have rigorous internal testing and we are members of the McAfee SECURE program, which ensures that our games are tested externally daily and approved. iWin.com is also Verisign Secured certified and an accredited business by the Better Business Bureau (BBB).
Click logos below for more information.