Bejeweled
The original gem matching game!
Download Requirements
Buy Now to own this game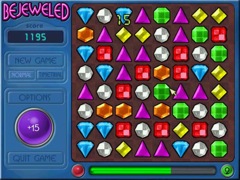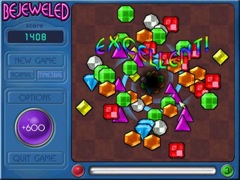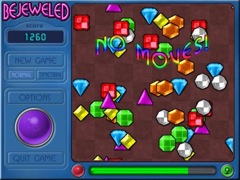 Game Description
The original gem swapping classic! Amazingly simple to play - Unbelievably hard to put down! One of the rare games that you can play all day 'just one more go' at a time. Choose from a relaxing and absorbing easy game, or a frantic timed game, as you tap adjacent pairs of gems to swap them and make matching horizontal and vertical lines of three or more.
Download Requirements
Buy Now to own this game
Most Recent Reviews To submit a rating or review, download this game
I bought this before I knew Pogo changed their server to iWin. I had wasted my money. It runs really slow, and I had spyware in my whole computer because of it. I will NEVER buy another game from POGO again, until they change their server back to Oberon Media. I NEVER had ANY issues with their games when they had them. I played this game somewhere else. It was a much better game experience. If it is powered by iWin it has too much spyware. I will NOT buy ANYTHING powered by them. What ever happened to Oberon? That is less Spyware and it would download faster, and have less crashes and if you power by iWin you are going to have bad game experience, this goes for all your downloads. Please, change back to Oberon as your server or loose ALL your sales from me. I used to buy 1,000's of games from you. I would rate you better if Oberon was your server, I used to enjoy all your games. See more See less