bookworm-adventures-2
http://www.iwin.com/games/bookworm-adventures-2
2459745087576232979
Bookworm Adventures 2
http://static.iwincdn.com/images/product/2459745087576232979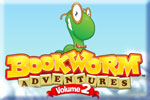 Help Lex the Bookworm save the world from certain doom by building words and battling monsters in Bookworm Adventures 2! Trade barbs, banter and body blows with over 130 foes, and earn help from fighting friends along the way! Power up with over 20 treasures; work wordy wonders in four game modes; and flex your lexicon in six mini-games. Bookworm Adventures 2 is a role-playing word game you can't set down!

ESRB Rating: E 10+ -- Animated Blood, Comic Mischief, Mild Cartoon Violence, Tobacco Reference



Bookworm Adventures 2 Forum

What is a Premium Game?
...read more
Bookworm Adventures 2 is rated Everyone 10 and older
*Downloads include optional Yahoo! Toolbar. Click here for details.
We protect your privacy. Review our privacy policy.
Bookworm Adventures 2 is Our games are guaranteed safe and free of viruses and malicious software. We have rigorous internal testing and we are members of the McAfee SECURE program, which ensures that our games are tested externally daily and approved. iWin.com is also Verisign Secured certified and an accredited business by the Better Business Bureau (BBB).
Click logos below for more information.