goblin-defenders-steel-n-wood
http://www.iwin.com/games/goblin-defenders-steel-n-wood
6899425780714260539
Goblin Defenders: Steel 'n' Wood
http://static.iwincdn.com/images/product/6899425780714260539
All Access
Download
Goblin Defenders: Steel 'n' Wood
for Free!
Download Now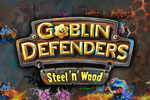 Tired of boring tower defense games? Goblin Defenders: Steel 'n' Wood breaks the mold with exciting and unique action! Why fight off enemies pouring in from one direction, like most other games, when you can battle hordes of monsters coming at you from all angles? That's what Goblin Defenders is all about!

Your survival will depend on your ability to make the right choices when upgrading your weapons and towers. Ogres, spiders and evil spirits are coming for you, so answer their challenge in Goblin Defenders: Steel 'n' Wood!
...read more
*Downloads include optional Yahoo! Toolbar. Click here for details.
We protect your privacy. Review our privacy policy.
Goblin Defenders: Steel 'n' Wood is Our games are guaranteed safe and free of viruses and malicious software. We have rigorous internal testing and we are members of the McAfee SECURE program, which ensures that our games are tested externally daily and approved. iWin.com is also Verisign Secured certified and an accredited business by the Better Business Bureau (BBB).
Click logos below for more information.