mahjong-mysteries-of-the-past
http://www.iwin.com/games/mahjong-mysteries-of-the-past
2458407445719047482
Mahjong Mysteries of the Past
http://static.iwincdn.com/images/product/2458407445719047482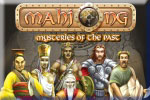 Mahjong: Mysteries of the Past is good old mahjong with a time and space travel twist. Did you know that Mahjong will save the world? It's true. All this and more will be revealed in Mahjong: Mysteries of the Past!

Vista users may have trouble with this game, please take advantage of the 60 minute trial before purchasing.
...read more
*Downloads include optional Yahoo! Toolbar. Click here for details.
We protect your privacy. Review our privacy policy.
Mahjong: Mysteries of the Past is Our games are guaranteed safe and free of viruses and malicious software. We have rigorous internal testing and we are members of the McAfee SECURE program, which ensures that our games are tested externally daily and approved. iWin.com is also Verisign Secured certified and an accredited business by the Better Business Bureau (BBB).
Click logos below for more information.