tiger-eye-the-sacrifice
http://www.iwin.com/games/tiger-eye-the-sacrifice
1353202530743415286
Tiger Eye: The Sacrifice
http://static.iwincdn.com/images/product/1353202530743415286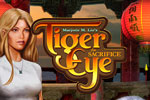 In this adventurous romance, outwit powerful villains and break an evil curse inflicted upon your love, Hari, while saving your best friend's life!
...read more
We protect your privacy. Review our privacy policy.
Tiger Eye: The Sacrifice is Our games are guaranteed safe and free of viruses and malicious software. We have rigorous internal testing and we are members of the McAfee SECURE program, which ensures that our games are tested externally daily and approved. iWin.com is also Verisign Secured certified and an accredited business by the Better Business Bureau (BBB).
Click logos below for more information.